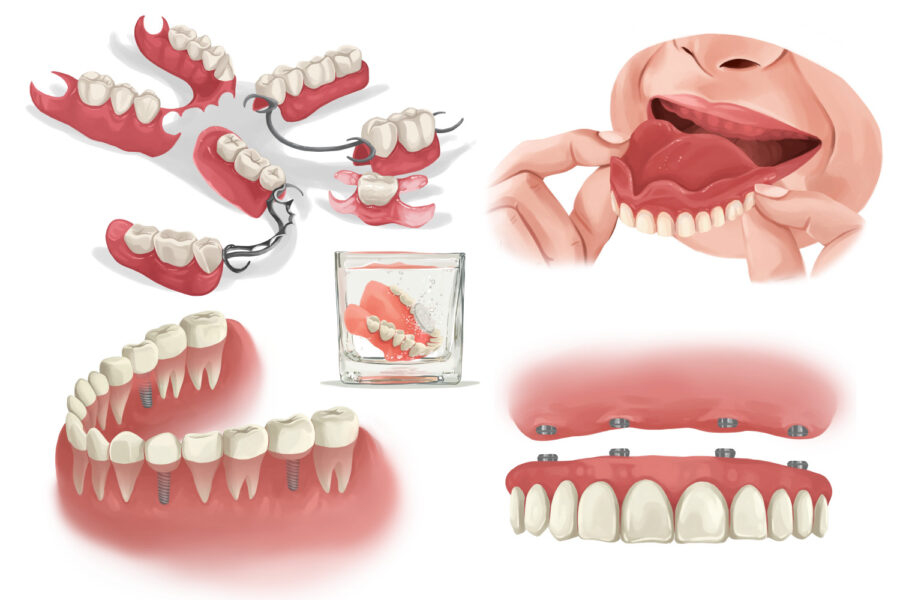 Should I Get Dentures or Implants?
December 30, 2022 3:23 am
---
Missing teeth can make it more challenging to eat, speak, and feel confident in your smile. Gaps in your smile can also result in bone loss and changes in your facial structure. Luckily, there are many tooth replacement solutions available to restore a healthy, beautiful smile! For example, dentures and dental implants are two common restorative options for repairing your smile.
Full & Partial Dentures
Dentures are prosthetics designed to look like natural teeth. Dentures have an acrylic, gum-colored base attached to artificial teeth. Dentures can replace a full arch of teeth, partial section of teeth, or multiple teeth in several areas of an arch. Partial dentures can be attached to remaining teeth with special clasps. Traditional full dentures are designed to fit snugly on the gum line and are held in place with an extra-strength denture adhesive or dental implants.
Dental Implants
Dental implants are small, titanium posts that are placed into the jawbone during oral surgery. Implants are biocompatible so they will permanently fuse with the jawbone. Once the mouth is healed after the oral surgery, patients can be fitted for custom tooth restorations on top of the implants. Depending on how many teeth are missing, a patient may need a dental crown, bridge, or denture. An implant is a permanent tooth replacement that prevents bone loss and keeps restorations securely in place so patients don't have to stress about their new teeth falling out or moving around.
Which Tooth Replacement Option Is Right for Me?
Not every tooth replacement option is right for every patient. There are many factors that influence your ideal treatment plan. Your dentist will consider your smile goals, oral health, lifestyle, and budget before determining the optimal route for your tooth replacement journey. At Lynn Lane Family Dentistry, we are passionate about helping patients regain full, healthy smiles. We proudly offer state-of-the-art services to restore your smile. Please contact our office to schedule your consultation!
Dentures & dental implants images from Authority Dental under CC 2.0
Categorised in: Restorative Dentistry