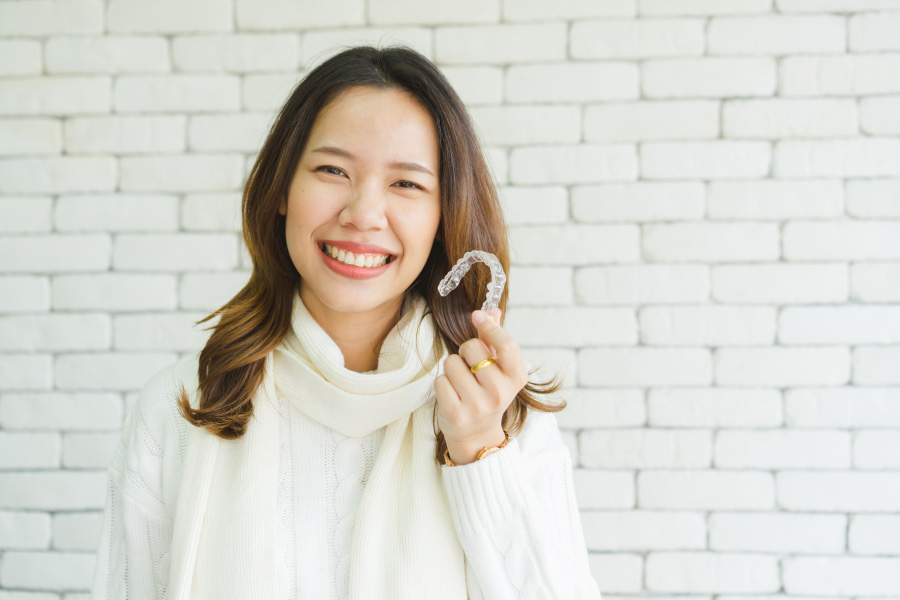 Should I Get Invisalign Instead of Braces?
August 27, 2022 6:38 pm
---
Do you want straighter teeth? While traditional braces are a great option for many patients, you may be eligible for Invisalign®! Clear aligner therapy uses gentle pressure to move crooked teeth into more desirable positions. We offer Invisalign as part of our comprehensive dental services here at Lynn Lane Family Dentistry!
Here are several reasons why you should look into getting Invisalign:
Inconspicuous Treatment
Metal braces are very noticeable so some patients may feel self-conscious during their treatment. In contrast, Invisalign trays are made from clear plastic so visibly they are not very noticeable. Although some patients do need tooth-colored attachments to increase the effectiveness of their treatment, these small bumps are a subtle addition to your teeth.
Removed to eat & brush your teeth
When you get braces, they're bonded to your teeth until the treatment is over. Because Invisalign aligners are similar to a mouthguard, you take the trays out when you eat and clean your teeth. This means you can eat all your normal foods and it's easy to brush and floss your teeth since there are no brackets and wires to maneuver around.
Keep in mind that you should only remove your Invisalign aligners when necessary. Wearing them for 20-22 hours a day ensures the best results. This makes grazing impossible and frequent snacks more time-consuming, since you need to remove your aligners to consume anything other than water and then clean your teeth afterwards. While this could be frustrating for some wearers, patients have reported this aspect as helpful in controlling their caloric intake and losing weight.
Comfortable
Invisalign trays are made from smooth plastic. There are no wires or brackets that can irritate your cheeks, gums, or the inside of your lips. While you may feel some temporary discomfort when you first get Invisalign and when you're starting on the next tray in your series, the soreness will soon fade.
Fast
Your orthodontic checkups will be faster compared to visits for metal braces. Braces require tightening and swapping of the elastics. But your Invisalign visits usually consist of a brief assessment of how your teeth are moving and switching to your next set of trays. Additionally, the average duration for Invisalign is only 12 months.
Invisalign in Broken Arrow, OK
Invisalign is a great treatment for mild to moderate alignment issues. The comfortable aligners are inconspicuous, removable, and simple to maintain. To know if clear aligner therapy is right for you, please contact us today to schedule a consultation with our team at Lynn Lane Family Dentistry!
Categorised in: Cosmetic Dentistry